The River Series
Our 3, 4 and 5 bedroom homes
The large, spacious homes in the River Series are ideal for acreage.
Each home has 9-foot ceilings, a 22.5 degree pitch roof with hip ends, a family room, a large kitchen with walk-in pantry, walk-in robe and an ensuite.
Option: Brick veneer, double gutter, bay windows, 8-foot verandah, garage, carport.
---
Riverdale 3 - Ensuite and family room - 150 Sqm or 16 squares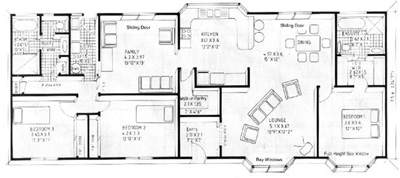 ---
Riverview 4 - Study and family room. - 178 Sqm or 19 squares
---
Riverland 5 - Study and family room - 210 Sqm or 23 squares